MARTIN J. SMITH
MORE THAN YOU PROBABLY WANT TO KNOW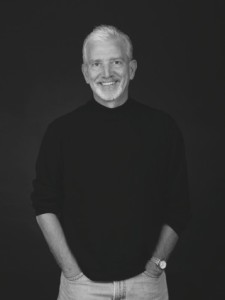 Photo by Jason Wallis
The veteran journalist and magazine editor has won more than fifty newspaper and magazine writing awards, and his crime novels have been nominated for three of the publishing industry's most prestigious honors, including the Edgar Award, the Anthony Award, and the Barry Award. New York Times bestseller Michael Connelly calls Smith's latest thriller, "Combustion," a "page-turner with a kicker at the end — you can't ask for anything better. Intricately plotted and full of character, this one is a great ride that burns with the intensity of a California wildfire." Diversion Books released that novel on Sept. 27, 2016.
Then, on Nov. 1, 2017, Globe Pequot published "Mr. Las Vegas Has a Bad Knee," a collection of Smith's essays about the people, places, and peculiarities of the American Southwest, where he lived and worked between 1985 and 2016. The Los Angeles Review of Books called the collection "compelling and readable," and called Smith "a master of the essay and human interest profile form" and "one of the best nonfiction writers today." Writes book critic and 2015 Guggenheim Fellow David L. Ulin in the book's foreword: "If Smith's book is about anything, it's about place, the way it gets inside us. And the Southwest … there's something about the space, the unformed landscape, that both terrifies and inspires, allowing us to see our limits and our possibilities. Thus, if on the one hand, Smith is tracking a lost world, it's a lost world that's also brave and new. Sound like a contradiction? That's the whole idea behind Smith's work in this collection, which traces (as it must) the middle ground between opposing, but not irreconcilable, perspectives: 'Permanence is illusion'; 'The best stories develop over time.' "
His 2012 nonfiction book, "The Wild Duck Chase," about the Federal Duck Stamp Contest and the strange and wonderful world of competitive duck painting, inspired Brian Golden Davis' documentary film "The Million Dollar Duck," which won both the Jury and Audience awards at the 2016 Slamdance Film Festival. The film aired multiple times on Discovery Communications' Animal Planet in September 2016.
A former senior editor of the Los Angeles Times Magazine, Smith was editor-in-chief of Orange Coast magazine in Orange County, Calif., between 2007 and 2016, during which time the Western Publishing Association five times named Orange Coast the best city/metropolitan magazine in the western U.S., including four consecutive wins between 2013 and 2016. As an editor Smith worked with a diverse group of writers, including Pulitzer Prize-winning journalists and bestselling authors such as Anne Lamott, Joseph Wambaugh, Walter Mosley, Amy Tan, Martin Dugard, Janet Fitch, Edward Humes, J.R. Moehringer, and James Ellroy.
Born in Birmingham, Alabama, and raised in Pittsburgh, Pennsylvania, Smith began writing professionally while a student at Pennsylvania State University in the late 1970s. His 15-year career as a newspaper reporter took him around the world, from the rural poverty of Southwestern Pennsylvania to Nevada's Mustang Ranch bordello; from the riot-torn streets of Los Angeles to the revolutionary streets of Manila; from pre-glasnost Siberia to the then-new frontier of cyberspace.
His Anthony Award-nominated first novel, "Time Release" (1997), featured memory expert Jim Christensen and examined the volatile issue of repressed memories against the backdrop of a sensational product-tampering case. In "Shadow Image" (1998), a sequel inspired both by the plight of former President Ronald Reagan and the JonBenet Ramsey murder case in Colorado, Christensen is drawn into the labyrinth of Alzheimer's disease and a complex web of lies created by one of Pennsylvania's wealthiest and most powerful political families. Publishers Weekly named it one of 1998's "Best Summer Reads." "Straw Men" (2001), a finalist for both the 2002 Edgar Award and the 2002 Barry Award, begins when DNA evidence frees an unpredictable and disfigured young man known as the Scarecrow eight years after he was convicted of a vicious sexual attack. The new evidence forces the woman whose testimony put him behind bars to confront memories that are violent, vivid—and apparently wrong. The series got new life in December 2013 when Diversion Books published those three novels for the first time in digital form, followed three months later by the digital release of "The Disappeared Girl." In that previously unpublished series novel, a mysterious, long-ago military plane crash plunges Christensen and his adopted daughter into a high-stakes search for the truth about her past that leads to a deep well of dark family secrets, and into the crosshairs of an international fugitive who'll do anything to make sure those secrets stay buried.
Smith also is the co-author, with Patrick J. Kiger, of "Oops: 20 Life Lessons From the Fiascoes That Shaped America" (HarperCollins, 2006), which Publishers Weekly called "as informative as it is entertaining," and "Poplorica: A Popular History of the Fads, Mavericks, Inventions, and Lore That Shaped Modern America" (HarperResource, 2004)," about which PW concluded: "All history should be this much fun."
He contributed the story "Dark Matter" to the "Orange County Noir" crime fiction anthology (Akashic 2010), and that story was excerpted in the anthology "Orange County: A Literary Field Guide" (Heyday Books, 2017). He also wrote the introduction to "Meeting Across the River" (Bloomsbury USA, 2005), an anthology of short stories inspired by the Bruce Springsteen song of the same title. He published an essay about inheriting his father's ancient tuxedo in the Los Angeles Times Magazine, and in 2009 expanded it into a self-published book called "My Father's Tuxedo: The Story of a Suit."
Smith currently is a faculty member of the Squaw Valley Community of Writers, and teaches a workshop course called "Writing the Novel" at Chapman University in Orange, Calif. He now lives in Granby, Colorado, where he recently edited "Go Grand," a local history book for the Grand County Historical Association, and also founded the Grand County Community of Writers through the local library district with the help of a grant from the Grand Foundation. He is a contributing writer for Stanford Business magazine, and an essayist for 5280, the magazine of Denver.